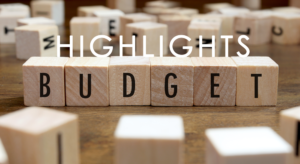 Budget 2020 was delivered by Finance Minister Paschal Donohoe today. Below we highlight the main changes that could affect you.
Climate Measures and Carbon Tax
Benefit-in-kind on commercial vehicles to be linked to emissions from 2023.
Emissions thresholds in respect of capital allowances and VAT reclaim on commercial vehicles to be reduced.
0% benefit-in-kind on electric vehicles will be extended until the end of 2020.
A Carbon tax increase of €6 per tonne likely to result in an increase of about 2c per litre of petrol and diesel immediately and about €15 per tank of home heating oil from May 2020.
Relief to be provided to hauliers through the Diesel Rebate Scheme for the increased cost of fuel.
A new nitrogen oxide (NOx) surcharge will replace the 1% diesel surcharge and will apply to all passenger cars registered from 1 January 2020.
VRT relief for hybrid vehicles will be extended until the end of 2020.
The weekly fuel allowance will increase by €2.
Brexit Package
A package of over €1.2 billion announced, excluding EU funding, to respond to Brexit. This includes:

€220 million immediately on October 31st if a no-deal Brexit occurs.
€110 million for the agriculture sector
€40 million for the tourism sector
€365 million for extra social protection expenditure in the event of a rise in unemployment
€390 million for Brexit contingency expenditure
Personal Tax
The reduced rate of Universal Social Charge for medical card holders to be continued until the end of 2020.
Income tax bands and rates remain unchanged.
The Home Carer Credit will increase from €1,500 to €1,600.
The Earned Income Credit will increase from €1,350 to €1,500.
Help to Buy Scheme will be extended until the end of 2021.
Living City Initiative will be extended until the end of 2022.
Corporation Tax
Confirmation of the 12.5% rate of tax.
Special Assignee Relief Programme (SARP) and Foreign Earnings Deduction will be extended until the end of 2022.
Enhancements to the Key Employee Engagement Programme (KEEP) and Employment and Investment (EII) programme announced.
For micro and small companies:

R&D Tax Credit to increase from 25% to 30%.
R&D Tax Credit will now be available for certain pre-trading expenditure.

The qualifying spend limit for R&D outsourced to third level institutions to be increased from 5% to 15% for R&D Tax Credit purposes.
New Anti-Hybrid Rules will be introduced, in line with the Anti-Tax Avoidance Directive (ATAD).
Transfer Pricing rules to be brought in line with OECD standards with effect from 1 January 2020.
Anti-avoidance measures to be introduced to the IREF and REIT regimes with immediate effect.
Agri Measures
Farm Restructuring Relief will be extended until the end of 2022.
Capital Gains Tax and Capital Acquisitions Tax
Capital Acquisitions Tax and Capital Gains Tax remain at 33%.
The threshold for capital acquisitions tax that applies to children receiving gifts or inheritances from their parents will increase by €15,000 to €335,000.
Other Measures
The rate of stamp duty on non-residential property will increase from 6% to 7.5%.
A new stamp duty charge of 1% will apply where a scheme of arrangement, in accordance with Part 9 of the Companies Act 2014, is used for the acquisition of a company.
The rate of Dividend Withholding Tax to be increased from 20% to 25% from 1 January 2020 with further changes to the DWT regime to follow from 2021.
The excise duty on a packet of 20 cigarettes is being increased by 50 cents with a pro-rata increase on other tobacco products.
A new relief from betting duty and betting intermediary duty up to a limit of €50,000 per calendar year to be introduced.
Social Welfare
The 100% Christmas bonus will be paid out in 2019.
The Living Alone Allowance to be increased by €5 in 2020. Increases announced in the Qualified Child Payment of €3 for over 12s and €2 for under 12s.
Free GP care will be extended to under-eights and free dental care to under-sixes.
Prescription charges for the over 70s are to be reduced from €1.50 to €1 per item.
There will be a reduction in the monthly threshold for the Drugs Payment Scheme from €124 to €114.
Medical card income threshold for the over 70s to be increased by €50 to €550 for a single individual and by €150 to €1,050 for a couple per week.
For more information, please contact Eddie Murphy, Partner and Head of Tax Services.
https://www.crowleysdfk.ie/wp-content/uploads/Budget-2020-Highlights-1.png
667
1000
Alison Bourke
https://www.crowleysdfk.ie/wp-content/uploads/crowleysdf-chartered-accountants-1.png
Alison Bourke
2019-10-08 15:24:39
2019-10-16 11:23:51
Highlights from Budget 2020