As you may be aware, the Charities (Amendment) Bill 2022 is with the Oireachtas to be passed into legislation. Upon the passing of this bill, this will bring significant changes to the Charities' Act 2009.
The bill will make Charities SORP (FRS 102) mandatory for organisations who meet certain thresholds.
The proposed thresholds are as follows: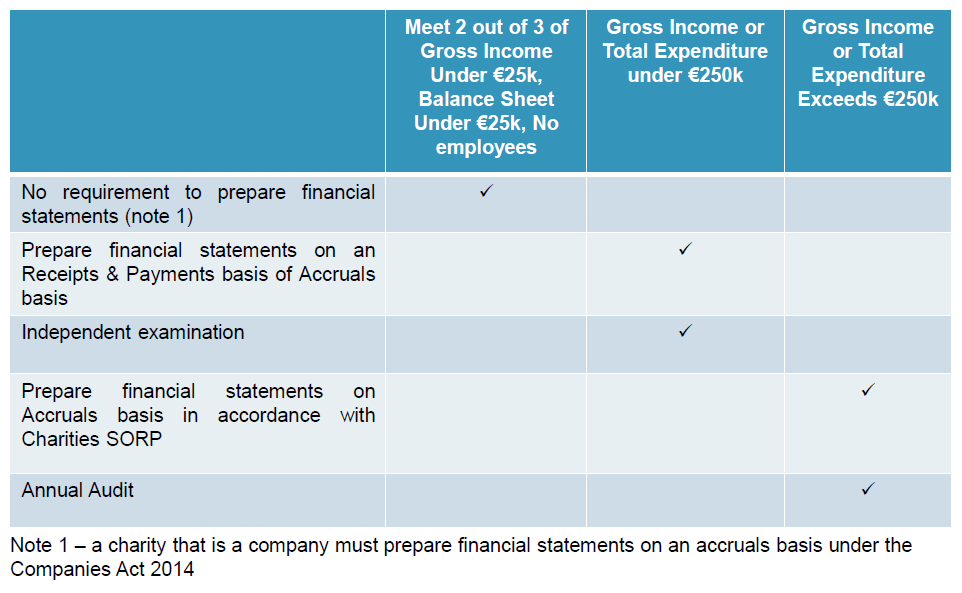 The updated legislation will apply to all registered charities in Ireland. Please note the following:
There is an understanding that the exemption in place regarding educational bodies will remain, however university foundations will no longer be exempt.
It is also expected that a charity will be able to prepare in accordance with another industry wide recommended practice e.g. Housing SORP.
The Bill is expected to pass by the end of 2023 with the expected applicable dates to be accounting periods starting 01 January 2025. This will mean mandatory Charities SORP will be applicable for year ends 31 December 2025.
What steps should I take now?
As SORP will require two years of comparative figures with the breakdown of figures between restricted / unrestricted, you should ensure that from the 2024 accounting period, the information recorded in the accounts package is posted in line with SORP or presented in the SORP format in charities management accounts. This information will be essential for the annual audit.
A working should be prepared to ensure reserves are split between restricted and unrestricted as appropriate.
Ensure your current accounts package is adequate for the needs of Charities SORP postings.
Attend any webinars available over the coming months hosted to help you become familiar with the legislation and requirements.
While your organisation may be already preparing the financial statements in accordance with Charities SORP, you may need to review available resources to ensure FULL compliance is being met once Charities SORP is introduced.
Please contact Elaine Murphy, Assistant Manager in our Audit & Assurance department if you have any queries regarding the migration to SORP.
Disclaimer: The information contained above is accurate at the time of publication and as the Bill has not been fully published, the information is subject to final changes.
https://www.crowleysdfk.ie/wp-content/uploads/shutterstock_1837443379-scaled.jpg
1707
2560
Alison Bourke
https://www.crowleysdfk.ie/wp-content/uploads/crowleysdf-chartered-accountants-1.png
Alison Bourke
2023-06-29 09:23:17
2023-06-29 09:23:17
Are you ready for mandatory Charities SORP compliance?