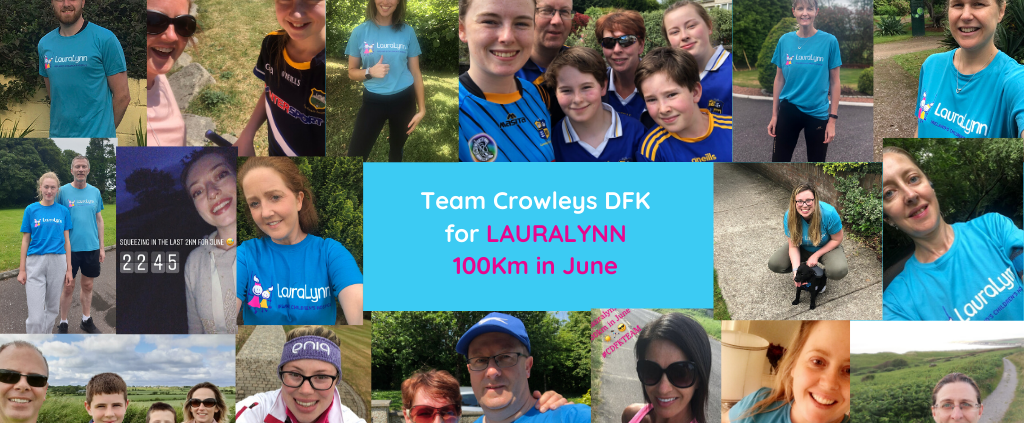 Over the month of June, 71 Crowleys DFK partners and employees, along with their families each ran/walked/jogged a minimum of 100 km in aid of our Charity Partner LauraLynn, Ireland's Children's Hospice.  
Normally at this time of year many of our partners would be looking forward to meeting our DFK colleagues from around the world at various conferences.  With these conferences cancelled, we decided to instead use our combined steps/kms and undertake a virtual walking tour of parts of the US and Canada and drop in to say 'Hello' to as many fellow DFK firms as possible. 
We were delighted with the support we received as we 'travelled' across the US and Canada.  Not only had we great fun catching up online with our DFK friends (old and new), but many others also sent us on email messages, photos and video messages to show their support for our fundraising efforts. 
As well being able to showcase LauraLynn and the great work they do, our tour gave us a great opportunity to promote DFK and highlight what a great network of close friends and colleagues we can reach out to on behalf of clients who carry out business internationally.  
We are delighted to have raised almost €9,000 to date with the help of our family, friends and colleagues. 
About LauraLynn Children's Hospice 
LauraLynn, Ireland's Children's Hospice is the only children's hospice in the Republic of Ireland. They provide specialised hospice care to children with life limiting conditions and their families from all across Ireland.  
Claire Shiels, Corporate Fundraiser at LauraLynn commented: 
"It is wonderful to see Ireland start to reopen but for many of our families' life will continue to stay close to home for some time yet. Your incredible achievements over the course of the month mean that we can continue to support these families on their journey through the health crisis.  By taking on this challenge, you made sure we can help our families stay at home and feel cared for there."
https://www.crowleysdfk.ie/wp-content/uploads/Final-Collage-for-100Km-in-June-for-LL.png
512
1024
Alison Bourke
https://www.crowleysdfk.ie/wp-content/uploads/crowleysdf-chartered-accountants-1.png
Alison Bourke
2020-07-03 11:49:59
2023-06-29 10:03:35
Crowleys DFK visit DFK USA and DFK Canada in aid of LauraLynn