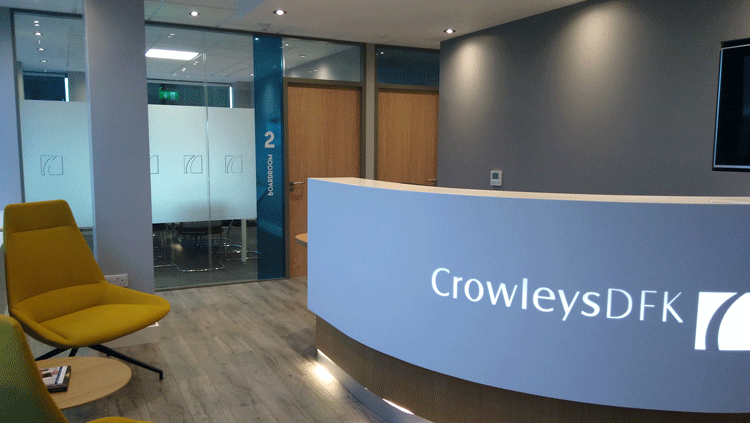 Since being established in Cork in 1975, Crowleys DFK has witnessed the rapid growth of the city. Known as Ireland's second city, Cork is the second largest economic hub in the country, with more than 20 financial services firms, over 150 FDI companies and a very strong indigenous SME sector. With an ever-growing University and Institute of Technology, new routes from Cork Airport and many new developments under construction around the city, Cork's growth levels are showing no signs of slowing down.
Like Cork, Crowleys DFK itself has grown significantly in recent years.  Starting in business as a Sole Practitioner firm with 3 staff the firm today comprises of 6 Partners and over 70 staff with offices in Dublin and Cork.
The Cork office is located in Lapps Quay in the heart of the city and near the soon to be redeveloped Cork Docklands. Due to the firm's growth the office space was unfortunately no longer meeting our current and long-term business growth needs. Not wishing to relocate and following on from the successful refurbishment of our Dublin office in College Green in 2016, it was decided that our Cork office would undergo a similar refurbishment.
In the summer of 2017, we began working with architect, Ellie Ross from GCA Architects and Designers and contractor, O'Sheas Builders. From inception to completion, we all worked in a very collaborative manner. As a result of this efficiency, our design goals were met within our tight 12-week building works deadline.
According to Colette Nagle, Advisory Partner and the project's sponsor: "I am delighted to announce that the refurbishment is complete and we have moved back to our newly refurbished office. The open plan design facilitates a more collaborative and innovative environment for our employees, resulting in a happier and ultimately a more productive workplace."
https://www.crowleysdfk.ie/wp-content/uploads/Cork-Office-Reception-Website.gif
563
750
Alison Bourke
https://www.crowleysdfk.ie/wp-content/uploads/crowleysdf-chartered-accountants-1.png
Alison Bourke
2018-04-05 11:48:42
2019-11-05 11:29:00
Crowleys DFK Cork Office Revamp